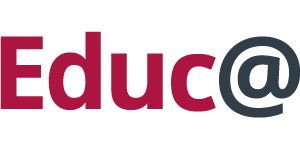 Educ@   
This is virtual Library that aims provide access to collection journals qualified in Education.
The Educ@ - is partnership between Fundação Carlos Chagas/Superintendence of Education and Research and SciELO - Scientific Eletronic Library Online that intend to organize and make available qualified journals in Education.
Using the methodology developed by SciELO, the journals will be analyzed and classified for scientific committee of Education in way to permit the strait access of interested people.
Besides of article and journals classified by subjects, content, date, author, the Educ@ objective develop studies that allow impact analysis of article in each journal.
Is it about pioneer action in education area, in which, until this moment, did not expect with specific indexers.
In this way, the Educ@, comes with the mission to understand the area specificities and keep the rigor of methodology used.
 



 about this site   



This is the home page of site Educ@ - Online journals. Where there are all the instructions about how to sing up regular qualification - Criteria for Collection Educ@. The consultation of users is done through the links provided at the top of the page.

The consultation of users is done through the links provided at the top of the page.
 



 help   



SciELO interface provides access to its serials collection via an alphabetic list of titles or a subject index or a search by word of serial titles, publisher names, city of publication and subject.

The interface also provides access to the full text of articles via author index or subject index or a search form on article elements such as author names, words from title, subject and words from the full text.

Click an hypertext link to call the corresponding access page.



 
---
Educ@
Fundação Carlos Chagas
Av. Prof. Francisco Morato, 1565 - Jd. Guedala
05513-900 São Paulo SP - Brasil
Phone: (55 11) 3723-3101
Fax:



educ@fcc.org.br